Hi!
In this post, I'm gonna tell you about two landmarks of Gyeongju – Cheomseongdae Observatory and Anapji Pond. Their night scenes are famous. They are located around center of Gyeongju and close to Gyeongju National Museum.
⛤Cheomseongdae
✅Historic Information
Cheomseongdae is the oldest surviving observatory in the world. It dates to the 7th century to the time of kingdom of Silla, whose capital was Seorabeol, or present-day Gyeoungju. Cheomseongdae was constructed under the reign of Queen Seondeok (632-647) near the capital of the kingdom. Cheomseongdae means "star gazing platform". The tower is built out of 362 pieces of cut granite which some claim represent the 362 days of the lunar year.
✅Night view
It's quite hard to except that its entrance fee is free for this area because it has so wonderful view – not only this Observatory also nice surroundings. There are good road to walk, pretty garden(it's hard to see at night though), and illumination around it. This area is really really famous and Gyeongju citizens come out at night time but not that much crowd.
✅Stamp event
At daytime, if you visit information center, you can get a card to gather stamp of landmarks in Gyeongju. Of course, you can get a stamp of Cheomseongdae.
⛤Anapji
When you pass Cheomseongdae and walk along the road, you can get to Anapji pond. Every single day, it's so crowd. Tourists and travelers always visit there and photographers try to take beautiful pictures at there. Also it's quite good place for lovers' dating. With above reasons, I highly recommend to go there at really really late night. Because there is closing time, so before you go there, check the closing time.
✅Admission hour and Fee
Now, admission hour is from 9 am to 10 pm and entrance fee is 2,000 won(around 2USD) for each adult.
✅Historic Information
Donggung Palace and Wolji Pond in Gyeongju (former name is Anapji) is an artificial pond in Gyeongju National Park, South Korea. It was part of the palace complex of ancient Silla (57 BCE – 935 CE). It was constructed by order of King Munmu in 674 CE. An abundance of unique and extraordinarily designed roof tiles, architectural materials, pottery, gilt bronze figures of Buddha, jewelry, accessories and other everyday items were discovered, offering an insight to Buddhist art and everyday life in Silla. Unfortunately, it was almost destroyed and just few structures were rebuilt. If you want to know how was it before loss, you can see it at Gyeongju National Museum as miniatures.
Even I'm introducing only night view of them, it's also nice at daytime. I wanna recommend to visit there if you want to feel peaceful or find quiet place to take a rest.
There isn't shade the way so I don't recommend to go there in the middle of the day in summer.
✔Location
It would be better that find Anapji 안압지(official name is Donggong Palace and Wolji Pond동궁과 월지) first and then follow the way to Cheomseongdae, because there is bus stop just in front of Anapji.
If not, you can get to Cheomseongdae from Daereungwon 대릉원. If you take a city bus from Gyeongju Train Staion or Intercity Bus Terminal, No.70 will bring you to Daereungwon parking lot. You can find the way to go to Cheomseongdae.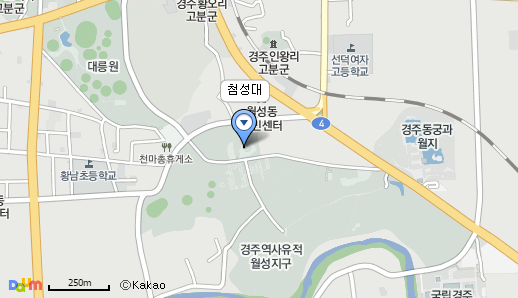 경주역 혹은 경주고속버스터미널에서 버스 70번 이용 후 대릉원주차장에서 하차, 길건너 바로 위치
승용차 이용 시 경부고속도로 – 보문단지 – 경주박물관 – 대릉원
I wish this posting was helpful for you and if there is more tips, please tell me through anyway.
Hopeflly, have a nice day in Korea!
Facebook  http://www.facebook.com/xdjeongwon
Instagram j.wony03